32 weeks and 3 days
Today (Feb 27, 2020)
Your Progress
You are now 81% through your pregnancy
Baby is due in 7 Weeks and 4 Days
You have been pregnant for
327,350 Minutes
5,455 Hours
227 Days
7 Months and 12 Days
And you are in your Third Trimester
How much time is left?
75,850 Minutes
1,265 Hours
53 Days
7 Weeks 4 Days
1 Month and 24 Days
You are in your Last Trimester
Counting Tip
Each Monday you are one week closer to your due date.
Baby Stats at 32 Weeks
Crown to Heel Length: 16.69" (42.4 cm)Weight: 3.75 lbs (1702 grams)
How's Baby Getting Along?
Baby:
Baby has a lot of practicing to do for life outside the womb. Sucking, swallowing and breathing will all become subconscious movements.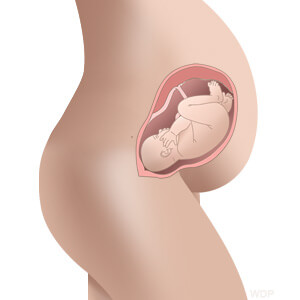 Read more on week 32 here
How Far Along Am I Summary
How many weeks am I?
You are 32 weeks and 3 days pregnant.
How many months am I?
You are 7 Months and 12 days pregnant.
This page is based on the following
due date
formats:
April 20th, 2020, Apr 20, 2020, 04/20/20, 4/20/2020

- US, CA.

20/04/2020, 20/4/2020

- UK, IN, AU, NZ